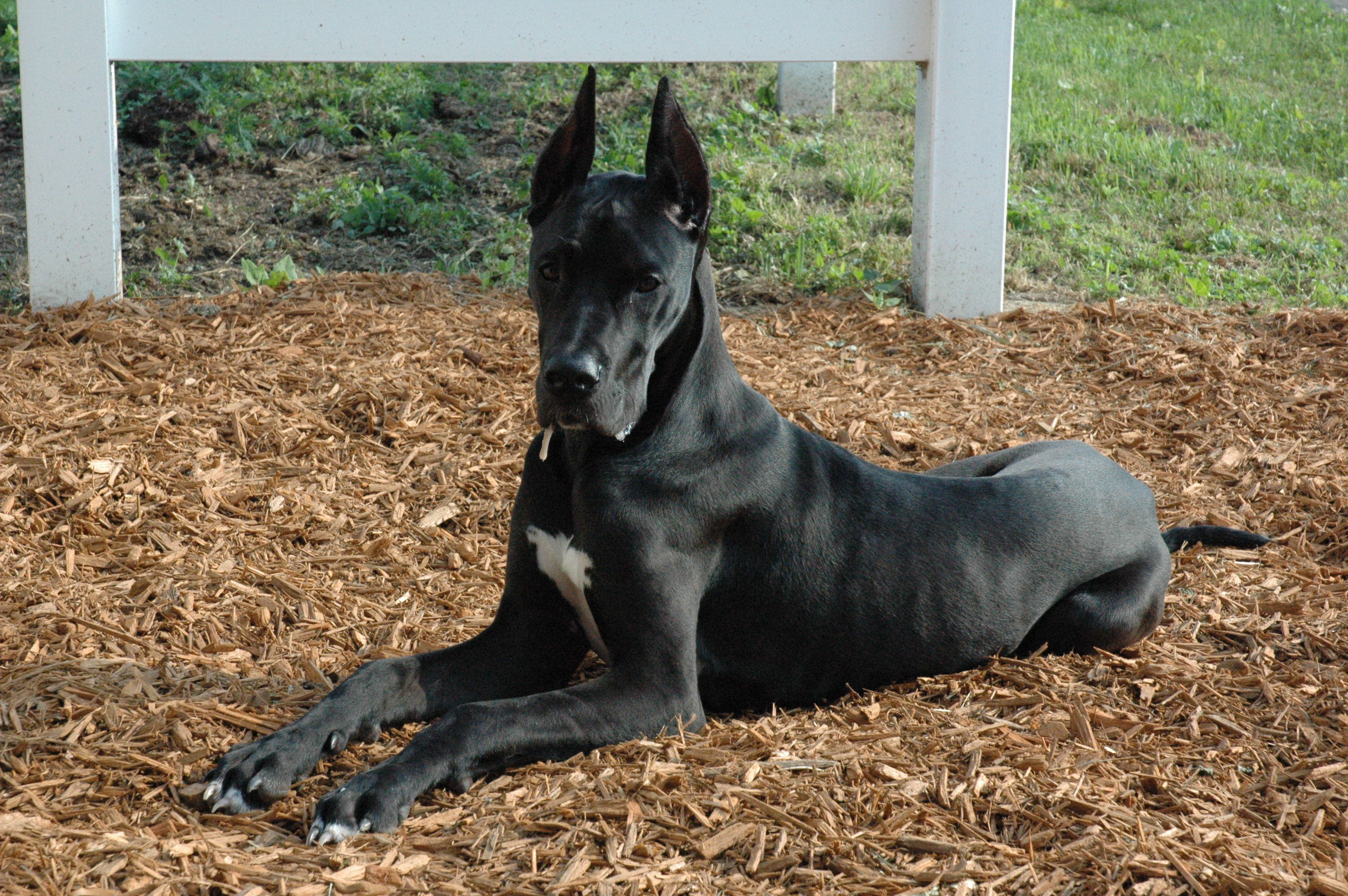 The Great Dane Lab Mix, also known as the Labradane, is a large to giant designer dog breed that has quickly become one of the most favorite cross-breeds among people who love larger-than-average canines.
The Labradane is recognized as a designer breed (and not as a purebreed in and of itself) by the following organizations.
Designer Breed Registry (DBR)
International Designer Canine Registry (IDCR)
Appearance
Size, Height & Weight
The Labradane, being a product from mixing together two of the largest dog breeds (the Great Dane and the Labrador Retriever), will be just like both its parents when it comes to its large size.
In general, the Labradane will weigh anywhere between 100-190 pounds, which is one of the highest weights you'll see on any dog (you can thank the Great Dane for that), and will stand anywhere from 25-35 inches tall.
Coat
Their coat is almost always going to be a short one that's very close to their skin, and one that comes in a wide variety of colors. Most common include brown (chocolate), brindle, white, and black Lab Great Dane Mixes.
Temperament
When it comes to determining what your Lab Great Dane Mix's temperament will exactly be like, you can't always be sure about the estimations because that greatly depends on which of the two parents it takes the majority of its traits from.
Affection
This canine is probably one of the most misunderstood dogs ever, as people tend to think they're dangerous just because of their gigantic size.
Even though they are one of the largest breeds you'll ever come across, who said large things can't be complete sweethearts?
With its two parents (the Great Dane and the Labrador Retriever) being absolute sweethearts and two of the most loving animals, these puppies are an absolute sucker for affection, and will take each and every opportunity that comes its way to show you exactly that.
This means that if you're sitting on your couch watching TV, expect the Labradane pups to come your way and want to cuddle.
Or if you're just about to go to sleep, expect this dog to come and lay right next to you just to remind you that it loves you.
You can also expect them to get along tremendously well with other family members (such as kids) and other household pets and show them the exact same affection.
The only reason we would not suggest that you immediately let them play with your kids without proper supervision is the fact that these are gigantic dogs that could easily overpower and physically hurt your kids with even the least bit of rough play, even though they may not mean any harm at all.
Since this canine is an offspring to two of the most affectionate breeds out there, don't add one to your family if you don't have time to spend with it on a daily basis, as it will most certainly develop separation anxiety and won't lead a happy life.
This dog should only be added to families that have adequate time to spend with it on a daily basis.
Training
Speaking of affection, one of the areas this dog will show you how much it loves you and wants to see you happy at all times is during training.
They are known to be fairly easy to train, because of the fact that they listen to and follow their owner's commands to the T, not needing nearly as much time and repeating as do some other dog breeds.
However, you should ideally train and socialize them from a very young age, when they're still small in size, because they can easily become a handful that's quite hard to control at times when they grow up and become the giant animals that they are.
It's sometimes hard to control 180 pound dogs that haven't been trained before, so start training when they're puppies!
Also, make sure you only stick to positive reinforcement methods during training and stay away from any useless and harmful methods that could potentially ruin their love for you, as this are such sweethearts that even the least bit of yelling will greatly upset them.
Guard Dog
If you're looking to add one of these canines to your family as a guard dog, then you're better off looking elsewhere because this is one of the worst guard animals ever.
This may come as a surprise because you're generally used to the idea that the larger a dog was in size, the better they will be as guards, but that's not always the case every time.
They are are such sweethearts and people-loving creatures, that they're the last dogs ever that could think about harming another human being or animal.
With that being said, there is some good news to all of this as they are known to be a good watchdog.
The Labradane will bark in order to let you know when an intruder is near or when something that shouldn't be going on is happening.
It'll be up to you to act though, don't expect this sweetheart to do much more than alerting you of the situation.
Exercise
Being the gigantic animal that it is, the Labradane must get adequate amounts of physical activity day in, day out to remain mentally healthy and let out all that energy that builds up inside.
The best way to make sure that your Lab Great Dane Mix is getting the physical activity it needs is to supply it with all the toys and objects it needs in a large space (such as your backyard), where it can get all the exercise it needs and stay on the move for a long period of time.
Of course, that won't suffice on its own as you'll still have to play around with it from time to time and take it on relatively long walks (ideally 2 long walks every day), but giving them a large space to spend time in will help out a lot because they're able to keep themselves busy and exercise themselves on their own.
The ideal candidate to add one of them to their family/household is a physically active person themselves that has an exercise routine that they can make this dog a part of.
One thing you have to take particular note of is the fact that this canine has to be very lightly exercised when they're still a young puppy, because any high-demand exercise can and will put tremendous stress on their bodies, joints and bones, all of which will cause them physical problems down the road later on in life.
The high-demand exercise such as jogging and running can be done with this dog when they grow up and become fully-grown adults.
Till then, stick with lightweight exercise such as short and slow walks to not too far away destinations.
Besides physical exercise, they (just like the majority of other breeds out there) absolutely love its mental stimulation as well, so be sure to stack up on toys and give them all the options and varieties they need to keep them going.
Best Living Conditions
First thing you should know is that since this is a large to gigantic dog, it's absolutely a NO-NO if you plan to have it live indoors in an apartment.
They will only be comfortable in a property with a large backyard for them to spend the majority of their time in, so please don't get one of these canines home only to have them live in an apartment because they won't have any room at all to move around comfortably.
As for the weather climate that Labradane pups are most comfortable in, they're comfortable in moderate temperatures more than they are in extreme ones, with their preference being towards moderately warm temperatures because of their short coat.
Common Great Dane Mix Health Problems
Some of the most common health problems that a dog as large as the Labradane is more prone than other breeds to suffer are as follows.
Hip & elbow dysplasia
Tumors
Growth spurts
Heart problems
Eye problems
Obesity
Bloating
Seizures
Epilepsy
Skin disease
Check out this video to learn how to prevent and treat ear infections in dogs!
You must also be careful about their diet, because gigantic animals like this usually have huge appetites and if not given a scientific and calculated diet to follow, they will easily overeat way above the caloric requirements they need during a day's time, which will result in serious problems such as bloat and obesity.
This is why it's extremely important that you consult with your veterinarian about what diet would be best for your Great Dane Lab Mix dog, how much calories they need to eat during the day, how much protein, fat and carbohydrates they should be getting, etc ..
In general, a Labradane will go on to live a lifespan lasting around 8 to 12 years, which is a little bit shorter than the average lifespan for a canine its size.
Proper Care Needed
As far as grooming is concerned, the first thing you should be looking into when it comes to this dog is how much it sheds, which thankfully is relatively low.
The only time you'll ever have to worry about their coat shedding a little bit above average is during shedding season, at which time you'll only have to increase your coat-brushing frequency a little bit to stay on top of the situation, to about brushing their coat once a day.
Other than that, they shed really lightly, which is a blessing to say the least.
Brushing this canine's coat around 1-2 times a week in non-shedding seasons should be quite enough to keep its coat in tip top shape.
As far as giving them a bath is concerned, this should only be done when there's a need for one, which is generally once every 2 weeks as their coat doesn't tend to get dirty as fast as the coats of other breeds.
You will face a little bit more difficulty bathing them than when you're bathing other smaller sized dogs, because you probably can't fit them in your bathtub, so you will have to make do with giving them a bath in a large space such as in your backyard.
If you don't have a backyard, finding a professional grooming center that offers giving large dogs a bath as part of their services would be your second best option.
As for the other grooming practices, you're going to need to brush their teeth around once every other day, clean their ears around once every week, and trim their nails whenever they start to grow longer than they should be.