The Pocket Pitbull, which has skyrocketed in popularity in recent years, is a small pitbull that comes as a result of a hybrid or cross breed between the American Pit Bull Terrier and Patterdale Terrier.
Nowadays, people are favoring this type of pitbull over the larger sized American pitbull terrier [1].
When we say pocket pitbull, you might imagine a pocket sized dog, but this is in no way the true case. What's meant by pocket pitbull is just that this breed is smaller than the parent breed.
The pocket bully is an excellent choice for individuals who wish to have a pitbull but are usually bothered by its size. This is probably the closest you'll ever get to a compromise between the two.
Pocket bullies are also known as mini pitbulls or miniature pitbulls, as some people call them by these names.
Characteristics Of A Pocket Pitbull
Here are some of the most noteworthy characteristics of pocket pits and should answer any questions you have:
Are They Great watchdogs?
 Pocket Pitbulls serve as very good watchdogs & companions, as you can count on them to start barking and alert you or other members of your household if they see an intruder in the house.
Is It Easy To Maintain Their Coats?
 Pocket bullies are renowned for their good looking and easy to care for coat, because it's shiny, smooth, short and thick.
The most common coat colors of teacup pitbulls are black, brown, cream, gray, and white
Do They Need A Lot of Grooming?
 Micro pitbulls don't need frequent grooming (unlike other dog breeds) to maintain their coat and keep it nice and clean
Are Pocket Bullies Very Active?
 They are highly active dogs, and they need their daily dose of exercise.
So before you go ahead and get one of these, make sure you have the time and capabilities that allow them to get a decent amount of daily activity and mentally stimulating games and activities, or else you're in for some big problems.
Daily activities like a walk in the park, running and/or jogging are some ideas to get you going. However, make sure you invest in the right equipment for these powerful pullers.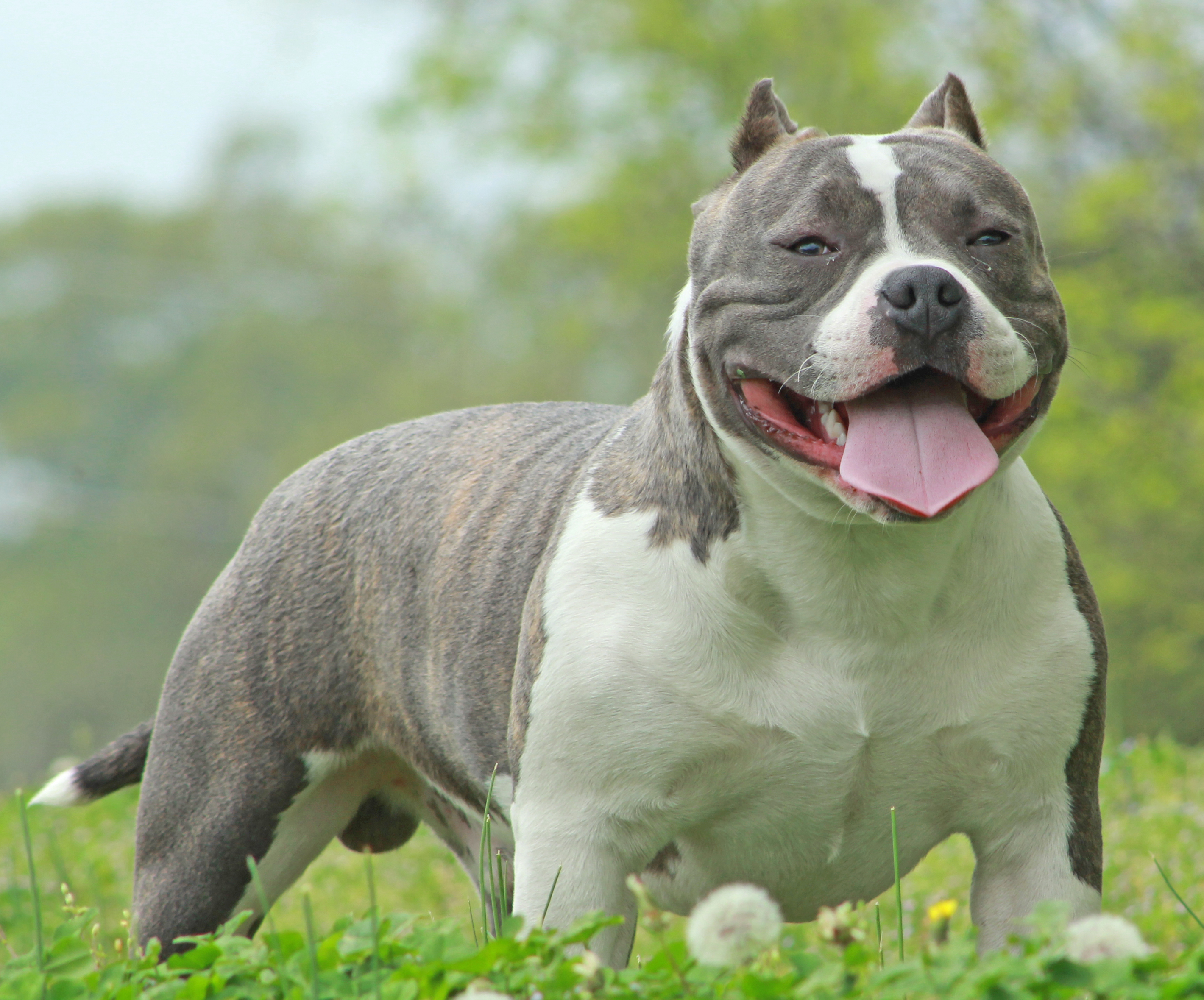 Are They Easy To Train?
 Training this dog breed is not as hard as training some other dog breeds, because they just love to please their owners.
However, with that being said, don't expect it to be too easy. Pitbulls in general are more easily trainable than other dog breeds, but this isn't always the case every time.
What is their Typical Life Expectancy?
On average they usually live anywhere from 11 to 13 years.  Your Miniature Pitbull is much more likely to achieve this type of life span when they maintain a healthy and balanced diet coupled with regular exercise.
What Is Their Typical Height?
They are usually anywhere from 12 to 16 inches tall at the top of their shoulders. Although males could be as much as 17 inches tall. 
How Much Do They Normally Weigh?
 Pocket bullies usually weigh anywhere from 30 pounds to 60 pounds.  Based on their weight they are considered a medium to large dog.
What Is Their Temperament Like?
They are known to be courageous, loyal, playful and very loving to owners who take good care of them, as well as very protective of these owners in return.
A common misconception is that all pitbulls are aggressive in nature.
That's completely false. Well trained and properly socialized pits can be some of the most loving pets that you and your kids will ever get around.
It's the badly trained and poorly socialized pitbulls that can be dangerously aggressive to people.
Do They Bark A Lot?
 Dwarf pitbulls rarely bark excessively for no reason, and that's always a good thing as no one needs this annoying aspect of dogs in their lives!
Are They A Physically Fit Mix Breed?
The mini pit physique is a proportionate and overall lean one, similar to that of any pitbull out there.
Check out this video to learn more about American bullies and their personality traits!
What Is The Price Of A Pocket Pitbull?
The average price of a mini pitbull is around $1000.
Micro pitbulls are considered to be a designer dog breed [2] and not a pure dog breed, and given the fact that miniature pitbulls aren't exactly found in abundant amounts on the market, anyone looking to get one should be prepared to pay a more expensive price than they would with purebred pitbulls.
Pocket Pitbull Personality (What To Expect)
While general facts about personalities of pocket bullies are clearly stated everywhere, there's no 100% certainty that your pocket pitbull is exactly like every other one, there are a lot of factors that determine whether this holds true or not.
The most important of these factors is the temperaments and personalities of the teacup pitbull's parents and grandparents, as dogs often aquire all the traits of their parents and grandparents.
If you're getting a mini bully from a high quality breeder you know, chances are they will have records of the temperaments of this dog's parents and grandparents, so you know what you're in for.
Lower quality dog breeders won't have this much data in hand, so know who you're doing business with!
If the pocket pitbull you want to get has parents that are known to be happy, well sociable and non-aggressive, that means that their offspring is most likely like that too.
However, if the tiny pitbull you want to get has parents that are known to be aggressive and not really sociable, it would be best if you forget about that dog and move on to other prospects.
Pocket Pitbull Names
Here are some of the other names that pocket pitbulls go by:
Pocket pit

Pitterdale

Pocketpit

Pitbull patterdale mix

Miniature pitbull

Mini pitbull

Teacup pitbull

Micro pitbull

Tiny pitbull

Dwarf pitbull

Pocket bully
When You Should Not Buy A Pocket Pitbull
One of the most common situations where it would be best that you don't buy a pocket bully pit is if you live in an apartment and have limited space/facilities/time to give this dog the daily physical activity it needs, as that would just make the dog miserable and lead them to start showing unwanted signs, such as aggressive behavior and excessive barking.
If you have a treadmill in your apartment, then that could just be the perfect solution to their daily activity needs.
Resources
1. American Pit Bull Terrier Facts https://www.animalbehaviorcollege.com/blog/breed-spotlight-the-american-pit-bull-terrier/
2. Designer Dog Breeds https://vcahospitals.com/know-your-pet/designer-dog-breeds