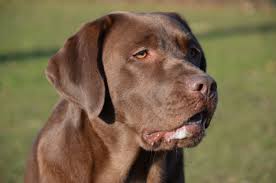 The Mastiff Lab Mix dog, also known as the Mastador dog, is a giant cross-breed dog that results from cross-breeding a Mastiff [1] and a Labrador Retriever [2].
The Mastador is officially recognized as a mixed breed dog by the following organizations.
American Canine Hybrid Club (ACHC)
Designer Breed Registry (DBR)
Designer Dogs Kennel Club (DDKC)
Dog Registry of America (DRA)
International Designer Canine Registry (IDCR)
Lab Mastiff Mix Appearance
Size, Height & Weight
On average, this breed is an extremely large sized dog that will stand anywhere between 28 to 36 inches tall, and will weigh anywhere from 100 to 200 lbs, which is absolutely gigantic for a dog.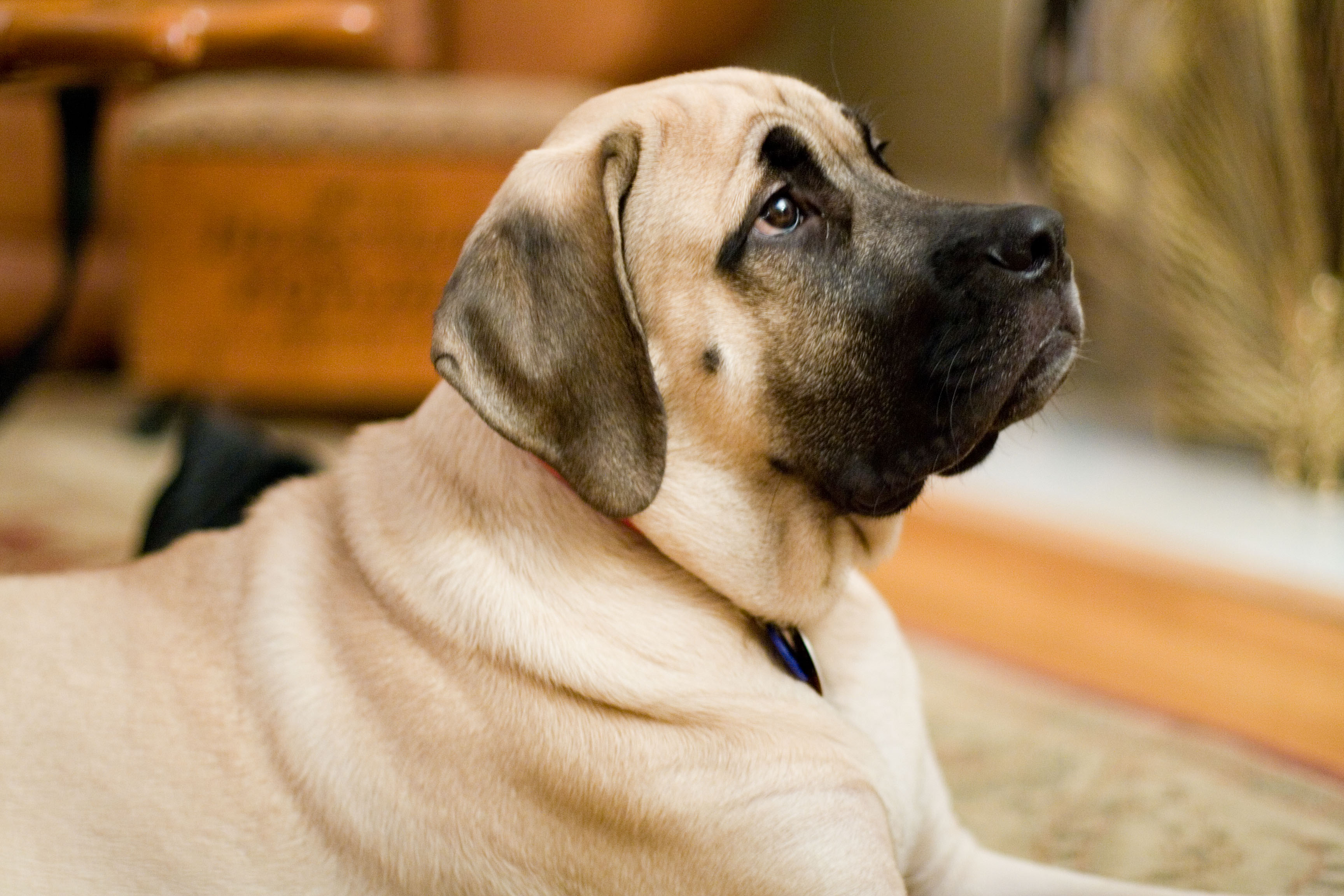 At just around the 6-7 month mark, Mastador puppies will tend to weigh anywhere between 50-60 lbs! This dog can weigh more than many humans once full grown!
And this huge size is most certainly no surprise, as one of the world's largest dog breeds, the Mastiff, is one of the two parents involved in this mix.
Coat
The coat of the Mastiff Lab Mix is a fairly short and smooth one that comes in all sorts of solid colors, most common of which being white, silver, gray, yellow, golden, brindle, brown and black.
Mastador Dog Temperament
Affection
First off, a very important thing must be noted and made very clear.
Please don't let the big size of this pup intimidate you into thinking it's not friendly.
Just like you could have a conversation with that buff, 250+ lbs dude at your local gym only to find out that they're one of the friendliest people you have ever met after they used to intimidate you, the same will happen with the Lab Mastiff Mix.
A very positive thing about this cross breed is the fact that it can handle longer periods of time being left alone much better than other dog breeds.
If you've read a couple or more articles about pure-bred dogs or other mixed-breed dogs, you'll probably have come across the notion many times that canines that are left alone for long periods of time will develop separation anxiety.
This is still true when we're talking about this breed, but the good news is that the time left alone that they can withstand before starting to show symptoms of separation anxiety is relatively longer than those other dogs you always read about.
Training
When it comes to training the Mastiff Lab Mix, we wish we could say that it's one of the easiest pets to train, but unfortunately it isn't.
The good news is, though, that it isn't one of the hardest dogs to train either.
Even if you get the best professional trainer out there, the progress you will see when training this dog will be relatively slower than the one you would be seeing with other breeds that are easier to train.
One of the hardest parts of training this mix that you will face is when they're still a young puppy, because of the fact that Mastadors are SO hyper and SO excited all the time, that it's a full-time job in and of itself trying to calm them down so that you can teach them a thing or two.
Exercise & Physical Activity
Being the gigantic sized-dog that it is, the Labrador Mastiff Mix must be exercised enough on a day to day basis in order to maintain its physical health as well as mental sanity.
If you don't give this canine the exercise it needs to get on a daily basis, your dog will very soon stop being a dog and transform into an elephant because of all the food they're eating and no physical activity to burn it off. (Alright, we're joking obviously, but you get the picture!).
The Mastiff Lab Mix is certainly no stranger to physical activity, as it's very well known to excel in the following activities:
Guarding
Hunting
Agility
Tracking
Search and rescue
Detection work
Of-course, the absolute most basic form of exercise you should be giving this pup on a daily basis is 1-2 walks, preferably to the dog park where they can enjoy the environment around them and get a breath of fresh air.
Watchdog & Guard Dog
As far as relying on this animal to be your home's watchdog and guard dog, you can put your money on them and they most definitely won't disappoint you.
Not only will they bark very loud and clear in a fairly deep voice to alert you of any stranger nearby that shouldn't be wherever they are and shouldn't be doing whatever they're planning to, this breed is also known to be a ruthless and fearless protector when it comes to its family, meaning that they won't stop at anything when it comes to keeping you out of harm's reach.
This very brave personality and willingness to do whatever it takes to save you or your family members from danger should NOT be confused with aggression.
Aggression is when a canine is willing to attack other people or other animals for no specific reason or without any of them being at fault, and this dog is nothing like this.
The only time the Mastiff Lab will take matters into its own hands (or paws in this case) is when real danger is looming around you or anyone else this dog cares for.
Mastador Dog Health
– Bloating – which means that you should split their daily food intake into multiple smaller meals rather than one huge meal that they eat once a day.
This way, there's way less stress on their digestive system and they can process everything in a much easier way.
– Arthritis
– Eye problems and infections
– Ear infections
– Heart disease
– Skin disease
The Labrador Mastiff Mix is expected to live a lifespan that lasts anywhere from 8 to 14 years, with Mastadors that lead healthy lives and are properly taken care of by their owners leaning towards the higher end of that spectrum.
For a dog as big as this, this lifespan is just about the average number you'll always see.
Preferred Living Conditions
As far as getting along well with your kids goes, this dog is known to be a fan favorite among families that are looking for animals for their kids to play around with, thanks to their very friendly personalities and their playful instincts that go hand in hand with that of little kids that love nothing more than to run around and play innocent games.
However, please make sure that any full grown Mastiff Lab Mix dog that wants to play around with your kids has been socialized at a certain stage in the life.
We say this because this cross breed is an absolute giant of a dog, weighing anywhere from 100-200 lbs, meaning that if they weren't socialized in life and didn't learn how to safely play around with kids before, then you could be putting your kid's safety at danger if this pup wrongfully uses its size and power.
And the same goes for any other animals and household pets you plan on having this dog play around with. Socialization [3] is an absolute key factor here.
If you're not very comfortable with having an animal this size around your little kids, that's perfectly understandable, and we've seen many people that have refrained from their decision to add one of these dogs to their family because of this issue.
These people preferred to get a smaller canine home for the time-being, and add one of these dogs to the family when their kids are all grown up and can properly take care of and protect themselves.
Also, if you're thinking about getting this breed to live in an apartment, FORGET ABOUT IT.
There is no way that a dog this size will be able to comfortably live and move around in an apartment, so don't even bother trying with that as you're only going to be wasting your valuable time and money in the process.
You should only consider getting one of these dogs home if you've got a fairly large backyard where this pet can call it their home.
You should also make sure that your backyard is properly fenced with a very high quality fencing system, because if it's fenced with something poor, good luck preventing this dog from making its way out in a breeze!
The Mastador is known to be a very good jumper, so don't invite them into doing something like this that they excel in.
As for what weather this dog does best in, the Lab Mastiff Mix dog is known to do best in relatively warmer weather than colder weather climates, due to the fact that they have a short coat that doesn't keep them warm during cold times.
Mastiff Lab Mix Care
To start this section off, it should be made clear that this animal is best off being fed a diet that consists of high quality, premium dog food that's specifically designed with a formula for large breeds.
There are many dry dog food options out there for many different sized dogs, and the best option for this dog is the large dog breed formula.
Watch this video to learn more about the best diets for large breed dogs!
Moving on to talk a little bit about taking care of this canine's coat, you won't have to brush the Mastiff Lab Mix's coat on a strict and very frequent basis as they aren't heavy shedding dogs.
On the contrary, this animal is known to be a very low shedding dog, so doing so on a light schedule is more than enough to take care of their coat, maintain its quality and keep that beautiful shiny look going on.
As such, this is an excellent pet for you if you're allergic to animals that shed a whole lot.
Now comes the tricky part about grooming this dog, and that's bath time.
Why tricky you ask? Well, if you think bathing a 100-200 lbs dog is as easy as bathing one that's 20-30 lbs, you're very wrong about that.
This mix should only be given a shower when the need arises, and the shower should either be given to it in your backyard while using something like a water hose, or by you taking them to a professional groomer that has a designated area for showering dogs as big as this.
This is one of the things that most Mastiff Lab Mix dog owners complain about, the fact that showering this dog takes up way more time than it does with other smaller sized pets.
As for the other grooming needs this dog has, their teeth should be carefully brushed about 4 times a week, their ears should be checked and properly cleaned around once every week, and their nails should be trimmed just when they start to grow more than they should be.
Finally, it should be noted that this dog tends to get its eyes dirty very frequently, something which can easily lead to eye infections if their eyes aren't properly checked on and cleaned on a frequent basis.
Resources
1. Mastiff Dog Breed Information https://www.akc.org/dog-breeds/mastiff/
2. The Labrador Club https://thelabradorclub.com/
3. How to Socialize your Mastiff Puppy https://ezinearticles.com/?How-to-Socialize-Your-Mastiff-Puppy&id=5824180