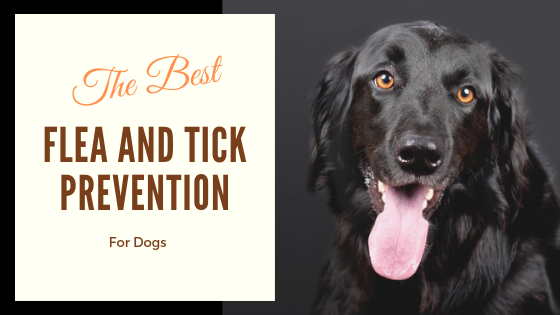 Flea and ticks prevention products for cats and dogs need to be efficient and safe enough to use in the presence of other pets and kids. Read on to learn the best flea and tick control and prevention for dogs and prevent a tick or flea infestation.
Introduction
You have just got home after taking your pooch for a walk when you realize that he's scratching his skin too aggressively. If you had noticed other signs such as pale gums and hair loss on your furry friend, this is sufficient evidence that he may be infested with fleas or ticks.
Apart from the obvious inconvenience, fleas and ticks are detrimental to your pet's health. These pests harbor an array of diseases. Ticks, for instance, can infect your pooch with Lyme disease, Rocky Mountain spotted fever and anaplasmosis. And as tiny as they are, these pesky arachnids can also spread diseases to human beings. It explains why you should invest in only the best flea and tick treatment for dogs. This article highlights the different prevention techniques that you can employ to ensure that your dog never gets infested with fleas and ticks.
Types of Flea and Tick Prevention for Dogs
The majority of flea and tick products are designed to attack the pests' nervous systems. But, there are plenty of treatments to choose from and they fall into five main categories:
A spot-on flea treatment is a tiny concentrated liquid, which is usually applied on the dog's back. In a few hours after application, the medication begins dissipating into the natural oils on the mutt's skin; hence, destroying the pests instantly.
Alternately, you can use the best flea and tick medicine for dogs. Such chews and tablets contain pesticides that kill fleas once they come into contact. These work faster than any other prevention technique.
Collars also have insecticides; hence, they make the best tick repellent for dogs. They work by getting absorbed into your dog's skin layers; thus, destroying fleas and ticks.
Shampoos also eliminate and prevent pests. If you live in an area prone to fleas and tick infestation, consider bathing your pooch in this shampoo.
Sprays work in a similar manner as spot-on treatments, that is, by lingering in the oils of your dog's skin. The only difference is that sprays are more diluted and require weekly applications.
Overview of the Best Flea and Tick Prevention for Dogs
The following products are the best flea and tick prevention for dogs.
PRODUCT

DETAILS

RATING

The best spot-on treatment for fleas and ticks prevention in dogs
Great for preventing a range of pests
A 3-dose supply can provide pest-relief for at
Destroys 100% of adult fleas and ticks on your dog within a period of 18 hours
Fortified with an insect growth regulator called S-methoprene
Remains waterproof for a month

Offers a non-greasy, odorless flea and tick protection for up to 8 months
Destroys and repels fleas and ticks upon contact
Recommended by veterinarians
More economical than most flea and tick prevention products

This shampoo is the best dog flea and tick prevention
Designed to kill and prevent fleas, ticks, flea eggs and lice
Ingredients include aloe, lanolin, oatmeal and coconut extract
Provides at least 28 days protection from pre-adult fleas
Gentles enough for puppies

Capable of killing and repelling fleas, flea eggs, ticks and mosquitoes
Made in the USA

<

Consists of chewable tablets that are great for repelling fleas, ticks, and mosquitoes
Flea Away is a vitamin complex and liver flavored
Adheres to FDA standards
Sourced and manufactured in the US
Reviews
Here are our recommendations on the products you should be using to prevent your dog from becoming infested with fleas and ticks.
Our Rating
We gave Frontline Plus a rating of 4.8 out of 5 stars.
Review
Frontline Plus is marketed as a monthly topical pest prevention formula for dogs. Apart from prevention, this treatment kills 100% of the fleas on your pooch within 12 hours. It also destroys ticks that may be hiding on your dog within 48 hours.
Frontline Plus is enhanced with two ingredients: Fipronil and S-Methoprene. Fipronil is a deadly insecticide that destroys pests by disrupting their central nervous systems. S-Methoprene, on the other hand, is a growth regulator that works by destroying flea eggs and larvae; hence, preventing future generations of both pests.
When you apply Frontline on your pooch for the first time, he may encounter temporary irritation. However, if these signs become severe, it's wise to consult your vet.
Pros
Features dual active ingredients for optimal efficiency
Provides an entire 30 days of protection
Waterproof
Cons
Pricier than other topical preventives
Not suitable for dogs and puppies weighing less than five pounds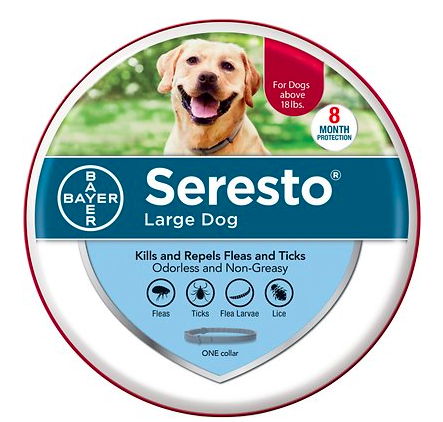 Our Rating
Seresto Flea and Tick collar deserves a rating of 4.7 out of 5 stars
Review
If you have been purchasing substandard flea collars, it's highly likely that you are not giving your dog the protection that he needs. Most of these collars repel fleas only around the neck region. But have you tried Seresto Flea & Tick Collar? It's ranked the best flea collar on the market and for good reason.
First, it prevents your dog's entire body rather than just the neck section. Second, it's fitted with a unique release technology that makes it easy to operate. Learn how to put this collar on your dog without hurting him by checking out
​Third, Seresto collar features two efficient ingredients: Imidacloprid and Flumethrin. The first compound destroys adult fleas and flea larvae as well. The latter helps to repel and kill ticks.
Pros
Offers up to eight months protection from fleas and ticks
Has a two-way release safety mechanism
Water-resistant for occasional bathing sessions
Cons
Needs not be combined with other forms of pest prevention
Its efficiency reduces if the collar is worn too often during swimming and bathing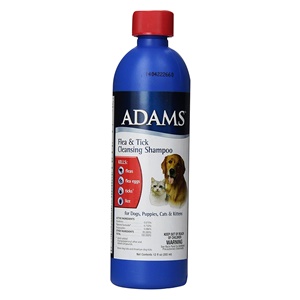 Our Rating
We rated the Adams Plus Shampoo at 4.7 out of 5 stars.
Review
You can fully rely on Adams Plus Flea Shampoo to keep ticks and fleas away from your pooch. It's a medicated shampoo, which helps to kill pests and clean your dog's coat. They contain two primary ingredients: pyrethroids and pyrethrins. The difference between these two is that pyrethroids are synthetic while pyrethrins are natural while the similarity is that they are both excellent at repelling fleas and ticks.
Meanwhile, Precor serves as an insect regulator. Put simply, Precor ensures that none of the eggs develop to the adult stage. Totally Goldens rated this flea shampoo as their top choice. They noted that although Adams Plus has an unpleasant smell, it lathers easily and helps in removing dandruff.
Pros
The primary ingredient is natural pyrethrin
Destroys fleas and ticks in all their life stages
Removes dandruff and scales when used for cleansing the coat
Safe for both puppies and adults
Cons
Features a somewhat strong scent
Needs to be worked into a thick lather for best results
Our Rating
We gave the Vet's Best Natural Flea a rating of 4.5 out of 5 stars.
Review
If you prefer an all-in-one remedy for pests in all their life stages, a flea spray is the way to go. The perk of using Vet's Best Dog Flea is that aside from using it on your dog, you can also spray it on his crate, exercise toys, and bedding. Also, this product features only natural ingredients, making it an eco-friendly choice for preventing ticks and fleas.
Pros
Consists of natural active ingredients
Safe for use around pets and kids
Repels mosquitoes
Cons
Induces sensitivity in some dog breeds
Our Rating
Our rating for Flea Away Natural Repellant is 4.6 out of 5 stars.
Review
As its name suggests, this medication primarily aims at repelling fleas and ticks rather than treating them. The 100 tablets are designed in a chewable form. They have a liver flavor, a characteristic that will quickly lure your pooch to consuming them. The Natural Flea Away tablets are also some of the easiest to administer. You do not have to bathe him or grapple with putting a collar around his neck. Ideally, Flea Away is regarded the best flea and tick medicine for dogs.
Pros
Natural flea-prevention supplement
Works to conceal the scent of CO2, which draws pests to your mutt
Supports a healthy, shiny coat
Cons
More effective as a preventive rather than a treatment
Conclusion
It's true what the wise said: an ounce of prevention is much better than a pound of cure. Fleas and ticks are tenacious pests. Instead of waiting for your pooch to suffer from a flea infestation, it's best that you invest in flea and tick prevention sprays, shampoos, collars, and medication. For the best results, consider the products in this flea treatment comparison guide and review.