I have two very picky eaters. They have been choosy with food since they were puppies. I am not fond of remembering the trouble they made me go through.
I adopted the puppies when they were seven weeks old. And like every other dog lover, I wanted to give them only the best. I had purchased a huge bag of expensive puppy food. You should have seen my face when the puppies refused to even blink at their bowl—total frustration.
Brand after brand, sack after sack, I watched every dog food go down the drain. It was more hurtful to watch my little furry friends become weak day by day. They were barely eating.
Then, I remembered something. I had watched my dad feed all our dogs with this one brand of food and had never heard him complaining. Immediately I made up my mind to try my luck.
Oh, my! I can't measure the joy I felt when I saw my puppies quickly and hungrily empty their bowls for the first time ever. My puppies are now all grown. They are two big, healthy, and lively dogs. Up to date, they have refused to eat food from any other brand.
Surely old is gold…and so is Purina dog chow.
If you are in the same situation as I was, read this Purina dog chow complete review to decide if this brand is right for your pup.
My Top Choice
I am very pleased that both of my dogs love all flavors of Purina dog chow. I have made it a practice to interchange these flavors every fortnight.
However, once in a while, I usually let my pooches feed continuously on the Dog Chow Natural with Real Chicken & Beef Dry Dog Food flavor for a month (sometimes two). The formula is not only crunchy and full of natural flavor, but it also has higher calories. My pooches are usually very active, thus, I know they need this energy boost.
Quick Links
Purina Natural Dog Food Reviews
Product
Main

Ingredients

Calories

Content

Chicken

&

Beef

413

kcal/cup

Chicken
406

kcal/cup

High –

quality

Beef

366

kcal/cup

American –

raised

Chicken

407

kcal/cup

Beef
387

kcal/cup
Best Dog Chow Dog Food Reviews
For many years, Purina (currently Nestle Purina Petcare Company) has been in the business of providing wholesome pet nutrition and care. One of their popular product lines is their Dog Chow. Read on for a comprehensive review of the top Dog Chow dog foods.
1. Dog Chow Natural With Real Chicken & Beef Dry Dog Food
The top on my list of best dog chow is this natural dry formula with real chicken. It is an AAFCO approved, fairly high-calorie dog chow that has whole grain corn (i.e. the germ, bran, and endosperm) as its main ingredient.
The corn is well-cooked to provide highly digestible proteins and carbohydrates necessary for your pup's growth.
Key Features
Made with real chicken and beef
Crunchy
Full of natural flavor
This dog chow is made with real chicken and beef fat that makes the food delicious and full of flavor to ensure your furry best friend always longs for mealtime. And since these proteins are easy to digest, this formula is well tolerated by pooches with sensitive stomachs.
All the ingredients are balanced in the right proportions of proteins, carbohydrates, and essential vitamins and minerals needed for a healthy and lively dog. There are no artificial preservatives, flavors, or colors added.
After reading several dog chow reviews, I noticed that most customers are happy because even the choosiest dogs enjoy eating this food.
Pros
Full of flavor for a delicious dog meal
Has a balanced diet for a healthy and strong dog
Has highly absorbable proteins that ensure strong muscle development
Has added vitamins and minerals (biotin, niacin, and riboflavin) to ensure the good health of your dog
Crunchy texture that keeps your pooches teeth clean, with fresh breath, and healthy gums.
Cons
Only ideal for dogs over one year
Most dogs love this nutritious formula because of its taste and crunchy texture.
2. Puppy Chow Large Breed Chicken Flavor Formula
Next is a formula that is specially designed to cater to the unique needs of large breed puppies under the age of one year. Unlike standard-sized puppies, large breeds require more nutrient-dense and easily digestible dog foods.
Key Features
Specially made for puppies under one year
Has 27% protein content
Has added calcium
As puppies grow, their nutrient and calorie demand is quite high. With this in mind, Purina has included fairly high amounts of calories and calcium (406 kcal/cup and 27% respectively) for optimal growth and development of the puppies' lean muscle.
Calcium is responsible for strong, healthy teeth and bone development. The formula also has other crucial nutrients, vitamins, and minerals similar to those found in mother's milk with DHA for good brain development.
Pros
Has a tender, crunchy texture and a delicious taste that your puppies will enjoy
Fortified with vitamins and minerals similar to those in mother's milk
Has high protein content for healthy lean muscle development
Has DHA for optimal brain development
Calcium is added to ensure strong teeth, joints, and bones
Cons
The smell is a little bit too strong
This formula is great to wean off your large breed puppies from their mommies. But, be ready to stand its smell—you'll soon get used to it.
3. Dog Chow Complete Adult With Real Beef Dry Dog Food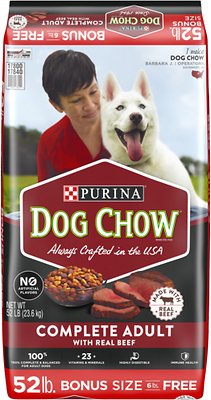 This is yet another meat flavored dog chow for adult dogs. Its ingredients are carefully and well blended in the right amounts for a healthy and beautiful pooch. All the ingredients are made in the USA and are of the same quality and standards as those used for human consumption.
Key Features
Made with real, high-quality beef
Specially made for adult dogs
Caloric content is 366 kcal/cup
Only premium beef is used in formulating this recipe to ensure healthy and strong bones. And to showcase the high quality of this formula, Purina says that their dogs are normally fed with this food too.
Another whopping twenty-three essential vitamins and minerals have been added to this formula to boost the growth and immunity of your pup. The formula is tasty and very easy to digest. And, all nutrients, vitamins, and minerals are quickly absorbed in the body.
Pros
Made from high-quality beef for strong, healthy muscles
Ingredients are well balanced for optimal growth of your dog
It is easy to digest and is well tolerated by dogs with stomach sensitivities
Cons
Would be better if less color was added
Other than the color, which dogs don't even care about anyway, this food guarantees a healthy and lively dog.
4. Puppy Chow Complete With Chicken & Rice
Another great tasting puppy chow is this chicken & rice recipe. It is packed with all the necessary ingredients needed for the optimal growth of any puppy.
Key Features
Formulated for puppies below one year
Made with real, American-raised chicken
Caloric content is 407 kcal/cup
The food's rich chicken flavor is from real American raised chicken. This chicken protein supports the growth of healthy lean muscle. Also, DHA obtained from fish oil is added to boost your puppy's brain and vision development.
Since this diet is specially crafted for puppies, it is easy to digest and is quickly absorbed into the body. In fact, most customers noted that the quantity and frequency that their puppies pooped noticeably reduced upon introducing them to this formula.
Pros
All ingredients are highly digestible and easily absorbable by puppies
Its high calorie levels boost the puppies' energy level for a lively and active pup
Only real American premium chicken is used for healthy muscle development
Has DHA for brain and vision development
​Cons
Would be better if less color was added
If you have a choosy puppy, this is a great diet to try.
5. Puppy Chow Tender & Crunchy With Real Beef
The last entry on our list is another puppy dog chow. It is made using the highest quality ingredients to make a formula that is 100% complete with all the crucial nutrients needed for the growth of a strong and healthy puppy.
Key Features
Formulated for puppies
Caloric content 387 kcal/cup
This puppy chow is made from a tender and crunchy beef-flavored formula that puppies enjoy. And like all other formulas on our list, this one too has DHA for healthy brain development.
27% of the food comprises of protein for the healthy growth of lean muscle. Also included are vitamins and minerals that are similar to those in mother's milk for increased immunity. Calcium is also included for healthy bones and teeth.
Some customers state that this diet helped their formally dull-skinned puppies regain a shiny and healthy coat. Others noted that their skinny doggies quickly grew to a healthy weight after starting this formula.
Pros
Has a tender and crunchy taste that puppies will love
Easily absorbed for optimal growth of your puppy
Cons
Would be better if less dye was added
If you have a puppy that is struggling to gain muscle weight, I think you should try this puppy chow.
Best Overall Product
The best overall product is the Dog Chow Natural With Real Chicken & Beef Dry Dog Food. I like that it has no artificial colors, it is tasty, but above all, it is filled with well-balanced proportions of all nutrients a dog requires for optimal growth.
Best Value Product
The best value product is the Puppy Chow Large Breed Chicken Flavor Formula. You will get a nutrient-dense formula for cheap.
Fillers in Purina Dog Chows
Let's start here: What is considered a filler ingredient in pet food?
A filler is an ingredient that adds little or no nutritional benefit to your pet. However, all the ingredients included in Purina dog chows are there to fulfill a specific nutritional need.
For instance, when high-grade corn is well-cooked it is rich in carbs, proteins, and essential fatty acids that are easily digested and absorbed by any doggie.
Factors To Consider When Choosing The Best Dog Food
Dogs will need different nutrients at every stage of their life. Below are the top factors to look at when selecting any dog food.
The age of your dog: Puppies need foods with high levels of calories, fats, protein, and calcium for optimal growth. On the other hand, adult and senior dogs need these nutrients in lower quantities.
The level of activity: Dogs that are very active need foods with higher energy levels.
The cost: There is always food within your budget. Go for one that has all the necessary nutrients for the growth of your canine friend.
Conclusion
Always look at the product labeling for advice on the recommended age. Other factors such as the nutritional value and cost of the food will determine what food you buy for your dog. I hope the above Purina natural dog food reviews will help you make a well-informed choice of the best dog chow.