So, you're looking for the best automatic pet feeder for your dog, cat, or any other pets you may have at home? Awesome decision!
You'll see how smart of a decision this was in a few week's time when you experience first hand how much time and effort you've saved.
Before we get into the details of everything you have to know about an automatic pet feeder, whether that's what criteria you should be looking for in such a product, what advantages you'll get with having an automatic pet feeder at home, etc .. let's have a quick look at our list of the best automatic pet feeders available on the market today, since some of you reading this may be in a hurry and want to get right to the recommendations without reading all the other stuff.
Keep in mind that these automatic pet feeders are perfect choices whether you're looking for the best automatic dog feeders or the best automatic cat feeders, they work very well for all pets alike.
Our List Of The Best Automatic Pet Feeders (Best Automatic Dog & Cat Feeder Reviews) – Updated List For 2020
Top Pick: PetSafe Healthy Pet Simply Feed 12-Meal Automatic FeederPick #2: PetSafe 5-Meal Automatic Pet FeederPick #3: Aspen Pet LeBistro Portion Control Automatic Pet FeederPick #4: Petmate Pet Café FeederPick #5: Bergan Petite Gourmet
PRODUCT

DETAILS

RATING

​PetSafe Healthy Pet Simply Feed 12-Meal Automatic Feeder

​Programs up to 12 meals a day
​Removable stainless steel bowl

​PetSafe 5-Meal Automatic Pet Feeder

​No Fabric
​Easy-to-use digital timer

​Aspen Pet LeBistro Portion Control Automatic Pet Feeder

​Large LCD screen
​Removable bowl for easy cleaning

Petmate Pet Café Feeder

​Removable lid
​Environmentally sustainable PET bottles

Bergan Petite Gourmet

​Made in the USA
​BPA-free
*Note: The links in the table above, as well as several links in the remainder of the article below, will take you to over to Amazon.com where you can find out more information about the products, such as current prices and customer reviews.
Best Automatic Pet Feeders Of Today
12 Daily Meals: With this programmable feeder from PetSafe, you're getting the ability to prepare, beforehand, the maximum number of meals any automatic feeder on the market can handle as of this writing, and that's an impressive 12 daily meals for your pet(s) to get on the spot whenever they need to eat.
This means that this feeder is able to dispense a specific portion of pet food 12 times a day, with each portion being specific by you beforehand.
If 12 daily meals for your pet is way above your needs, be sure to check out our #2 pick below and see if that's a more suitable automatic feeder for your pets.
Slow Feed Mode: PetSafe has included an awesome feature in this automatic pet feeder that's called "Slow Feed Mode".
This is just what its name sounds like, a feature that ensures any significantly large-sized meal is dispensed over a longer period of time than smaller meals, which ultimately results in your dog eating their meal over a longer period of time and slower than they could have eaten it had the automatic pet feeder dispensed their entire meal all at once.
So, what exactly does this "Slow Feed Mode" feature benefit your dog?
Not only will having your dog eat their meals in a slow fashion and over a longer period of time ensure better nutrient absorption and enhanced digestibility, dogs that eat their food slowly and over a prolonged period of time also face much lower risks of having bloating, a very common condition often seen in dogs that eat way faster than they should be.
Bloating may seem like just an annoying occurrence when it happens to your and I, but bloating is a very common cause of death in dogs if not dealt with properly, so PetSafe has done an incredible job with their "Slow Feed Mode" to ensure this condition stays as far away from your dog as possible.
Great For Multiple Pets: Cat and dog owners alike constantly report back after purchase about how easy it is for two dogs/cats to eat from this automatic feeder at the same time.
Of course, there are a few difficulties at first when it comes to two pets eating from the same bowl at the same time, but you can easily create a space for each pet in the same bowl and voila – problem solved!
The bowl that comes with this unit is a very wide and spacious one, so there's more than enough room for you to create two separate areas within the same bowl for your two cats or small dogs to share.
Minimal Noise: Out of all the automatic pet feeders available on the market today, this has to be one of the least noisy ones ever to be made.
This is a very important issue to look into when buying automatic pet feeders (or any other machine you want to use for your pet), since loud noises make pets afraid, and the last thing you'll want to happen is your dog or cat becoming afraid from their automatic pet feeder – that would just mean that you've spent a significant amount of money on something your pet will give you the hardest of times coming anywhere close to, let alone eating from.
Up To 5 Meals A Day: If our #1 pick above offers you more than you would ever need with the 12-meal planning capability, then this option (also from PetSafe, obviously these guys are good in what they do!) should be taken into consideration.
You can choose between two automatic pet feeders, one that gives you the ability to store 2 meals and one that gives you the ability to store 5 meals.
Wet-Food Friendly: PetSafe state that your choice of either dry food or wet food can be used perfectly fine with this automatic pet feeder.
And unlike many other automatic pet feeder manufacturers who get this point terribly wrong and leave you hanging afterward when you find out the unit can't, in fact, handle wet pet food, many customers have reiterated this point and reported that they feed their cats & dogs wet pet food with this electronic pet feeder all the time and it's working like a charm.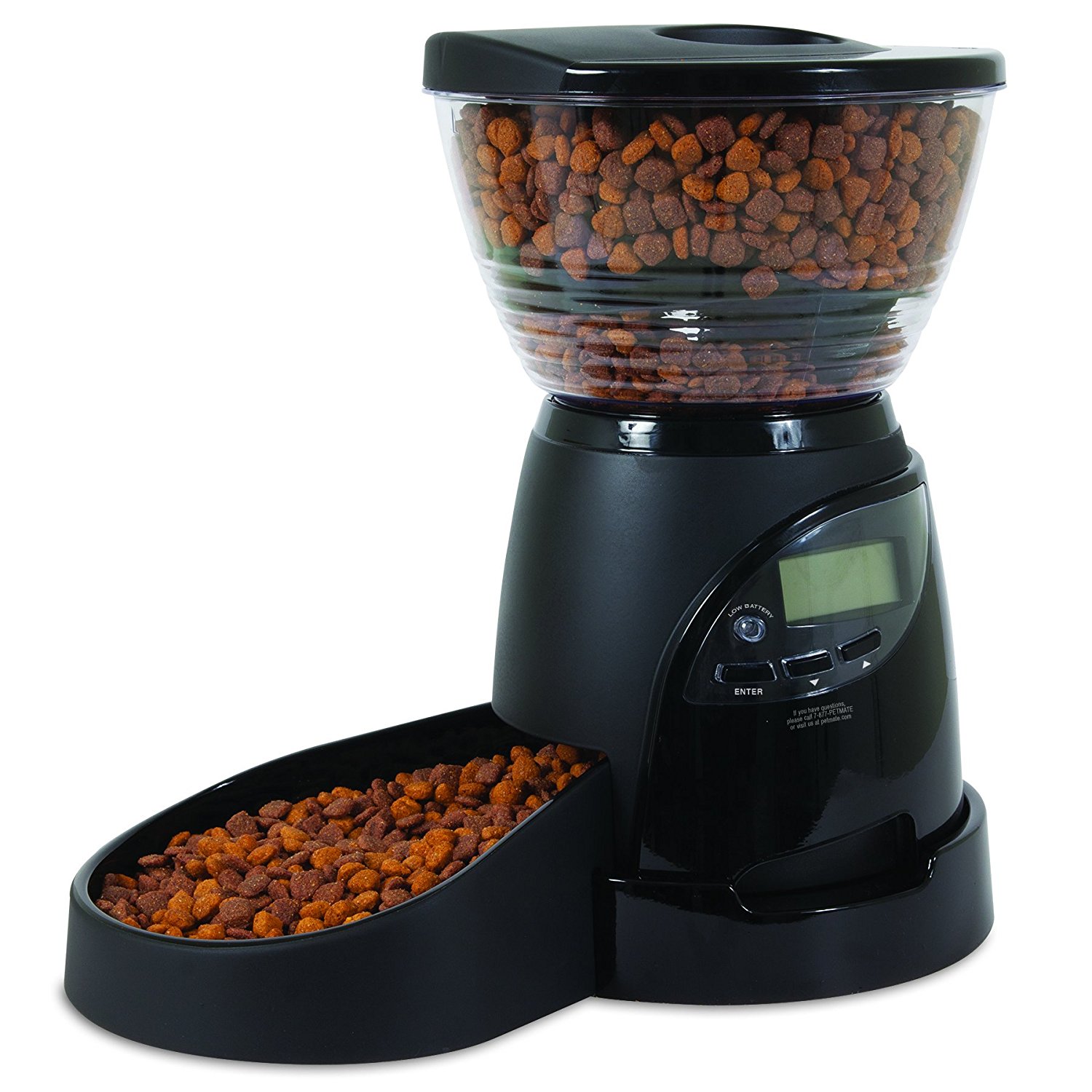 Up To 3 Meals A Day: If our #2 pick above still proved to be more than what you need in an automatic pet feeder as far as the number of meals you can pre-plan for with such a product, then this automatic pet feeder is an excellent option for you to consider since it holds up to only 3 meals a day.
Very Easy To Program: Despite this being an automatic pet feeder that's only able to support up to 3 meals for your pet a day (we just prefer to see a higher meal count supported, 3 may be perfect for your needs), this is one of the easiest automatic pet feeders on the market to program and set a schedule to run.
Some of the other automatic pet feeders being sold today make it way more complicated than it really should be, but PetMate has done a very good job in simplifying this process as much as possible.
Not The Hardest To Sneak Into: One of the issues we didn't really like when having a look at this pet feeder is that because of its overall design, it isn't the hardest of jobs for your pet (especially if you've got a sneaky cat at home that loves to outsmart everyone else) to sneak into it and get a few pieces of pet food to eat before it's actually the time you programmed for the feeder to dispense food.
Perfect For Large Pets: If the best automatic pet feeder for large dogs is what you're looking for in order to accommodate the needs of your big fella, then this feeder from Petmate is a perfect option for larger sized pets.
It's not an overstatement to say that this pet feeder is a rather huge unit when compared to other similar products on the market, especially when you know that it can hold up to 12 lbs of food inside, something which makes it perfect for large dogs.
Even if you're not necessarily looking for an automatic pet feeder for large pets, you can still greatly benefit from the gracious space inside and stack up on a lot of food for your pet to be fed automatically while you're away.
How Do I Determine The Best Automatic Pet Feeder For Me?
Whether you're looking to buy the best automatic pet feeder for your dog or cat, the following list of criteria is very important for you to have a look at and consider during your shopping process.
# Of Supported Meals: How many meals are you planning to schedule for your dog or cat to be fed automatically by a pet feeder?
Are you planning on scheduling no more than 2 meals for your pet for the day? 5 meals? Or do you need a higher capacity automatic pet feeder that gives you the possibility of scheduling up to 12 meals for your dog or cat?
There are many different automatic pet feeders on the market that give you the ability to schedule a maximum of different amounts of meals per day, so you have to study your needs and those of your dog or cat before making such a purchase.
If you have a small breed dog that doesn't need to eat a whole lot of food for the day, you may find that you can do fine with an automatic pet feeder that has a small capacity to it, but if you have a large breed dog that needs to eat often and needs to eat large-sized portions, you'll soon find out that you're re-filling the automatic pet feeder more frequently than you would have liked if you buy one with a small capacity.
Pet Size: Do you have a relatively large-sized dog at home that requires you to invest in the best automatic dog feeder for large dogs?
Or do you have a relatively smaller sized dog at home which can do perfectly fine with an automatic dog feeder their own size?
One of the most important factors you should consider when buying an automatic pet feeder is whether or not it takes into consideration the needs of a dog the size of yours (bowl size, portion size, etc ..), whatever size your dog may be.
Kibble Size: For an automatic pet feeder to be good for your pet, you should make sure that it's perfectly able to preserve and process whatever kibble size you plan on feeding your dog or cat.
Large breed adult dogs are generally given large-sized kibble because they're jaws are able to handle such large-sized dog food, while small breed dogs/young puppies are generally given small-sized kibble because they still don't have the necessary physical power in them to handle larger sized kibble.
So, the best automatic pet feeder will be able to perfectly hold and present your pet with whatever kibble size they consume without any mechanical difficulties.
Dry VS Wet Pet Food: What kind of food do you usually feed your pet? Do you normally feed them dry food or wet food? The best automatic pet feeder you can get for your pet is one that can perfectly handle whichever type of pet food you want to have it hold and process.
Can Your Pet Steal?: A very important issue you must watch out for when buying an automatic pet feeder is how hard it makes it for your pet to "steal" food from inside before it's actually the programmed time for the feeder to provide your pet with their meal.
Some automatic pet feeder manufacturers do a horrible job when it comes to this department, where they make it very easy for pets to sneak their way into grabbing food from inside the feeder whenever they feel like it.
What's the point in investing in an automatic feeder like that? You might as well provide your dog or cat a bag of their favorite food and let them eat from it whenever they wish to if that's the case.
Obviously, this is not the end goal you have in mind when buying an automatic pet feeder, so you should make sure that any such product you want to buy will make it as hard as possible for your pet to grab any food from inside when it's not the designated time for them to be fed.
# Of Pets: If you have more than one pet at home and you plan on feeding all of them throughout the day via the same automatic pet feeder, you better make sure that the dispenser is able to hold in a large amount of food in order to accommodate.
Buying an automatic pet feeder in order to feed one pet at home is different than buying an automatic pet feeder in order to feed multiple pets at home.
Why Should I Invest In The Best Automatic Pet Feeder?
So, exactly why should you invest in the best automatic pet feeder for your dog or cat? The following list summarizes some of the most important benefits you and your pet will enjoy with any of the options mentioned in our list above.
Just The Right Amount Of Food: Let's face it, ensuring your pet is sticking to their specific diet and is only eating the amount of food they should be eating for the day (or calories they should be getting from food) is a tough job.
If your pet has access to a bag or can of their favorite pet food, then they can easily overeat way more than they should be eating for the day if they're feeling hungry and want to do so.
An automatic pet food dispenser will remove any chances of your dog over-eating while you're not monitoring them, since they can only eat the amount of food that you've scheduled for them to eat beforehand, hence minimizing the chances of them becoming overweight in the process.
Saves You Tedious Work: If you want to go down the old fashioned route of feeding your pet, you have to always be there to make sure the amount of food your dog or cat is eating is just right and you have to be there to put the portions yourself when its time for them to eat, all of which factors take up significant portions of your day.
An automatic dog feeder or automatic cat feeder can take care of all of that for you and will ensure that your pet is automatically served their meals whenever it's time.
All that's required from your end is to do the work upfront and leave it up to the automatic pet feeder to automate the process throughout the day.
With such a machine at home, you won't have to worry about waking up earlier than you want to in the morning time just so you can put some breakfast in your pet's bowl, getting back home earlier than you'd like to just so you can feed your pet lunch, having to be late to work (or wherever else you have to go to for that matter) just because you have to serve your pet a meal on the spot, or any other similar annoyance we all went through one time or another in the past because of feeding schedules that require our physical presence at the time.
You'll be noticing the time-saving aspect that having an automatic pet feeder at home gives you a whole lot more especially if you've got multiple pets you're taking care of all at once.