(Last Updated On: June 25, 2019)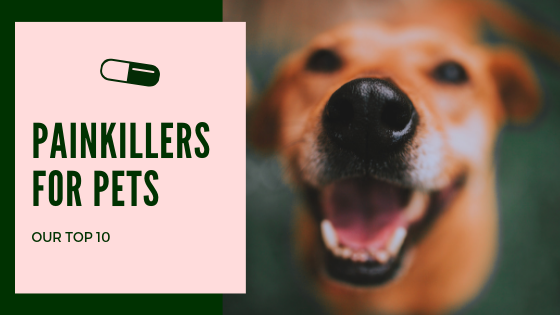 Knowing that your beloved pet is in chronic pain can be very distressing. Here are the ten best painkillers that you should give to your dog if he's in pain.
Introduction
When humans are suffering from chronic pain, it's pretty hard not to notice that something is amiss with them. Some will complain all day about their aching backs. Others yell out the minute they step on sharp objects. But the majority of people will isolate themselves, preferring to remain indoors until they get better with a little pain relief. Dogs, on the other hand, are not that easy to read. They can't speak or go to the drug store for some pain relief, and when they whine or bark, their owners will often just dismiss them.
However, there are a few subtle things you will begin to notice if your dog is in pain. They become less active due to joint pain, whine a lot, experience altered breathing or they start changing their routines. If your dog has exhibited any of these symptoms, it's highly likely that there's something wrong. So, the question many dog owners ask is: What can I give my dog for pain? This article answers this question by highlighting the top ten painkillers for pets that will offer pain management treatment.
At a Glance: Our Choices of Painkillers for Pets
PRODUCT

DETAILS

RATING

Nutri-Vet Aspirin

300 mg aspirin
Other ingredients include maltose, beef liver, microcrystalline cellulose and whey starch.
Tasty, chewable tablets with liver flavor
Made in the UnitedStates
Perfect for extremely active dogs or ones involved in physical training

Dog Pain Away All Natural Joint Supplement

Contains proprietary blend of type II collagen, papain, bromelain, boswellia, feverfew, cayenne andturmeric
It helps in soothing sore and achy joints
Available in easy-to-chew doses

Vet's Best Aches + Pains Dog Supplement

Active ingredients: glucosamine, bromelain, methylsulfonylmethane, white willow bark, and yucca
Other ingredients include: calcium carbonate, liver, natural flavorings and rice powder
Great for soothing natural aches and pains
Approved by the National Animal Supplement Council for quality standards
Safe for pregnant pets

NaturVet Buffered Aspirin Pain Reliever for Small Breed Dog Chewables

60 mg aspirin in a chewable tablet
Temporary relief from inflammation and pain
Buffered to be gentle on tummy
Increases mobility in dogs that suffer from arthritis

Pet Relief Natural Relief

Provides relief from skin infections such as mange
Consists of 100% pure therapeutic-grade essential oils
Protects your dog's skin from further infections
Made in the USA using all-natural and safe ingredients

Amazing Nutritionals Turmeric Chews

300 mg turmeric root extract, dicalcium phosphate, liver, stearic acid and magnesium stearate
Ideal for soothing painful joint inflammation while promoting health of the liver, heart and digestive tract
Bacon-flavored chewables
Devoid of wheat, corn and maltodextrin for easy digestion

Nutramax Cosequin Maximum Strength (DS)

Each chewable tablet contains glucosamine hydrochloride, sodium chondroitin sulfate, manganese and methylsulfonylmethane
Also has consequin, which aids in maintaining optimal joint function
Boosts cartilage production while protecting existing cartilage from breakdown
Easy to administer

NaturVet Senior Care Aches & Discomfort Dog

Active ingredients: glucosamine HCL, yucca schidigera, white willow bark, boswellia serrate and L-Tryptophan
Recommended for joint health and function
Aids in alleviating aches and discomfort linked to daily exercises
Manufactured specifically for senior dogs
Time release formula

Pet MD Hip and Joint Supplement for Dogs Triple Strength

Formulated to support dog's joints
hypoallergenic formula
Great for soothing pain from inflammation
Helps in maintaining synovial fluid in joints for enhanced mobility
Boosts circulation

VetriScience GlycoFlex Stage III Ultimate Strength

Vet-approved
Canine joint support from inclusion of perna, glucosamine, MSM, DMG and antioxidants
Ideal for dogs of all weight rages
Clinically-proven to increase hind leg strength
Bite-sized soft chews with natural flavor
*Note: The links in the table above, as well as several links in the remainder of the article below, will take you to over to Chewy.com where you can find out more information about the products, such as current prices and customer reviews.
Pain Medications for Dogs
Ideally, you can use some over-the-counter pain management drugs like NSAIDs to ease your dog's pain. However, it's never a prudent idea to use human medications on your pets and visiting one of your local veterinarians is the ideal solution. Many homeowners ask: Can I give my dog Tylenol? The truth is that Tylenol, ibuprofen, NSAIDs, non-steroidal anti-inflammatory drugs, and other pain relievers that are designed for human consumption, should not be administered to dogs to treat pain and inflammation.
Before purchasing any OTC pain meds for dogs, be sure to consult your veterinarian. Here are our recommendations for the best painkillers to give to your dog.
Our Rating
We rated Nutri-Vet K-9 Aspirin at 4.8 out of 5 stars.
Review
Nutri-Vet Wellness is a US-based line of pet products. Just recently, the company has created a dog supplement meant to relieve pain from dogs diagnosed with arthritis. Nutri-Vet was also designed to give temporary relief from unbearable pain. With one bottle of Nutri-Vet, you get 75 chewable tablets, each of which contains 300 milligrams of aspirin. These tablets are flavored so when you feed them to your pooch, he will think that it's a treat.
Pros
Liver-flavored tablets that increase your dog's appetite
Each tablet offers 300 milligrams of aspirin
Cons
Some customers are not pleased by the chemical scent released when one opens the bottle
Our Rating
We gave Dog Pain Away a rating of 4.5 out of 5 stars.
Review
Are you wondering what to dogs for pain? DPA, as it's commonly abbreviated, is an excellent pain reliever for your mutts. It achieves this by supporting the health of his joints, cartilage, and connective tissues. DPA consists of natural ingredients, herbs, marine extracts as well as natural type II collagen. The type II collagen serves to alleviate inflammation while also rebuilding cartilages in joints.
Pros
Composed of natural elements
It relieves pain and strengthens your dog's immune system
Cons
Some customers raise concerns over the inclusion of Boswellia as an ingredient
Our Rating
We gave Vet's Pains Dog Supplement a rating of 4.4 out of 5 stars.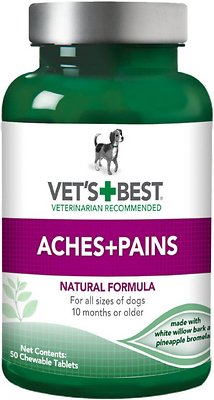 Review
If you don't want any pet medications that contain aspirin, then you should consider purchasing Vet's Best Aches. It contains glucosamine, HCL, MSM, and a couple of natural ingredients including white willow, bromelain, and yucca.
Willow is the primary source of an anti-inflammatory element known as salicin. Bromelain helps to alleviate pains from your dog's muscles and joints while yucca relieves arthritic pain. Yucca is also a great immune system boost.
Pros
Has natural ingredients
Formulated for all kinds of dog sizes and breeds
Cons
Only ideal for pooches over ten months old
Our Rating
We gave NaturVet Buffered Aspirin for Dogs a rating of 4.6 out of 5 stars.
Review
If you have at one point been faced with the question: "What can I give my dog for pain?" then worry no more. The NaturVet Buffered Aspirin is all you need to help your small dog feel better. It relieves pain resulting from inflammation and arthritis.
If your dog is only experiencing minor pains, taking one pill per day is enough treatment.
Pros
Each tablet has about 60 milligrams of aspirin
The buffered tablets will be gentle on your mutt
Cons
Might not be safe for pregnant dogs or those meant for breeding.
Our Rating
Pet Relief Natural Relief has a rating of 4.0 out of 5 stars.
Review
Some dogs have a tendency of being very picky with what they eat. If you have such a pooch that does not like taking tablets, Pet Relief, which is made in liquid form is the ideal choice. It's formulated in the USA, featuring natural compounds such as wintergreen and therapeutic-grade essential oils.
Pet Relief is highly recommended as a pain remedy for post-surgical recovery. It's also great for healing wounds, general aches and pains. Not all dog breeds take pain medications well, so the Pet Relief makes an excellent alternative.
Pros
Available in liquid form to be sprayed directly on the aching area
Features therapeutic-grade essential oils
Purely natural
Cons
Cannot relieve every dog's pain
Our Rating
We gave the Amazing Nutritionals Turmeric Chews a rating of 4.5 out of 5 stars.
Review
The Amazing Nutritionals is formulated using turmeric root, which is then manufactured into bacon and beef flavored chews. Turmeric curcumin serves as an excellent anti-inflammatory and antioxidant. These chews also contain chondroitin, glucosamine, omega-3 fish oil, MSM, probiotics, and vitamins.
Turmeric has been used in traditional medicine for a long time. It has curcumin compound that has powerful healing properties. It has been particularly useful in relieving pain that comes about because of arthritis.
Pros
Consists of turmeric curcumin—an anti-inflammatory medicine and antioxidant
Tasty bacon and beef flavor
Cons
Several cases of dogs that have experienced side effects
Our Rating
NutramaxCosequin deserves a rating of 4.7 out of 5 stars.
Review
Cosequin is an essential and nutritional supplement. It has two primary ingredients: chondroitin and glucosamine, both of which are great for boosting joint health in dogs. Glucosamine works by building up more molecules that are meant to boost and create new molecules within the cartilage.
It is this new cartilage, which then enhances your dog's joints as he walks, plays, and jumps around. Check out this page to learn more about how Cosequin works.
Pros
Improved mobility in most dogs
Formulated under strict guidelines
Highly recommended by veterinarians
Cons
There may be some side effects
Expensive to administer
Our Rating
We rated NaturVet Senior Care at 4.7 out of 5 stars.
Review
These Aches & Discomfort tablets are specially formulated for senior dogs that may experience joint pains because of their age. They feature a time-release formula, which is helpful in ensuring that your dog gets a balanced absorption of the product's nutrients.
NaturVet comes in form of chewable tablets, making it incredibly easy to feed your dog. And although it's used on senior dogs, pet owners can also administer it to dogs over one year.
Pros
For older dogs
Enhances joint health and function
Relives aches and discomfort
Easy to chew
Cons
Our Rating
Based on the effectiveness of this pain medication for dogs, we gave it a rating of 4.5 out of 5 stars.
Review
Pet MD Triple Strength painkiller boasts of an advanced veterinary formula consisting of about 20 active ingredients. With such a combination, this product is highly recommended for treating hip dysplasia and arthritis in dogs.
And the best part is that it is void of grains, wheat, soy, and corn, which makes it a great remedy for dogs that experience allergies. Some of the primary ingredients in Pet MD Triple Strength are zinc, turmeric, Creatine, EPA & DHA Omega 3's Hyaluronic acid and vitamin C. These nutrients are known to relieve pain and promote synovial flexibility. This way, your pooch can embark on his routine exercises and activities in no time.
Pros
Made with powerful ingredients
One of the most complete anti-inflammatory formulas
Alleviates pains
Made in the USA—adheres to FDA and USDA strict manufacturing standards
Cons
Some dogs may not like the minty flavor
Our Rating
We gave GlycoFlex Ultimate Strength a rating of 4.6 out of 5 stars.
Review
GlycoFlex is the best pain reliever, especially for dogs experiencing arthritis pain. Its stages system has been recommended by vets for more than three decades. Ideally, this pain medication works by increasing your dog's hind-leg strength. Customers report that positive results being achieved within a period of four weeks. These tablets contain a natural chicken flavor, which makes them highly-palatable for your pooch.
Pros
Contains glucosamine, MSM, DMG, and Perna canaliculus—ingredients known to eliminate pain
Tasty chicken flavor
Cons
Lacks chondroitin, which works well with glucosamine
Conclusion
What can I give my dog for pain? It's the question that we have been trying to answer throughout this article. Hopefully, you now have a clue of the types of painkillers that are safe for dogs.