Why do you need to know which dog DNA test kit is the best dog DNA test out there?  Well I think we have all had those encounters with strangers, where they ask you about your dog's breed and you just can't gather a real answer to for them?
How about when you're unable to figure out why your pooch sports that weird coat color, or why he/she barks a lot when there's movement outside the house, what diseases he/she could be prone to, or how big he/she might grow?
Like most of you, I've always wanted to quench these doubts. Just recently, I came across dog DNA tests.
What blew me away about these kits is the massive amount of details they're able to give you about your pet's genetic makeup, history, hereditary genetic problems, and physical traits, among many other details.
I understand you may have other reasons for wanting to test your dog's DNA. But, my goal today is to help you find a DNA kit that will give you the information you're looking for in a fast, efficient, highly accurate, and reliable manner.
To start you off, let's briefly look at how these dog DNA kits work. Later on, we'll explore what you should be looking at before making a purchase, and then we'll get into our dog DNA test reviews.
How Dog DNA Test Kits Work
All kits seem to follow the same procedure. First, you'll have to register it and thereafter take a sample of your dog's tissue by swabbing the inside of his/her cheek. The kit will come complete with the swab brittles, plus the instructions on how you should carry out the process.
Usually, you are supposed to wait a certain amount of time before carrying out the test. It could be anywhere between thirty minutes to two hours after your pooch has eaten. The reason for this is to collect as much DNA-laden saliva as possible.
Once that is done, you'll put the swab back into the provided container or sleeve and mail it back to the company you bought it from. The sample will then be processed, and the results sent to you via email or made available online for you to download and print.
What To Look For In Your Dog DNA Test Kit
Right now, the market is filled with dog DNA kits, each claiming to be the best. Well, it's upon you to verify these claims, which you can do by considering the following factors.
Breed Database
Just how big is the company's breed database? If they have a huge list of dog breed genotypes to test your sample against, that means you stand a greater chance of getting more accurate results. A good start would be a database with at least 180 American Kennel Club (AKC) recognized breeds.
Depth Of The DNA Testing Procedure
Does the kit guarantee a comprehensive report? For example, not all kits come complete with the option to screen for genetic mutations that are behind certain diseases or could make them prone to certain hereditary conditions.
Unless you don't want to know the health condition of your dog, it would be best to ensure the test can avail extra information about your dog's genetic ancestry.
Result Processing Time
Most of the good companies will process your final results within 2-3 weeks. But the waiting period could be longer depending on the kind of information you want and the depth of the DNA testing process.
Don't forget to spare some time to look at the trustworthiness and credibility of the company behind the DNA test kit. Look out for studies carried out by them to validate the accuracy of the tests conducted.
Best Dog DNA Test Kits
Below are comprehensive reviews of the best dog DNA test kits available in the market today
​Embark Breed & Ancestry Identification, Trait & Health Detection Dog DNA Test Kit
Embark's DNA tests have earned the trust of many users due to their consistency in delivering not just highly accurate, but also comprehensive results.Take their database, for instance. Currently, it comprises well over 200,000 genetic markers, which should be quite reassuring to any pet parent who would love to know as much as they can about their dog, from bloodline purity to recessive traits.Another feature that has hooked me on Embark's tests is their capacity to generate information for over 250 breeds and 160-plus genetic conditions.Whether it's MDR1 sensitivity, dilated cardiomyopathy, PRA blindness, degenerative myelopathy, you name it, this test can detect it all accurately.To reinforce your trust in their DNA testing process, Embark has partnered with Cornel College of Veterinary Medicine just to ensure that the accuracy of their results are always maintained. Also, they have earned validation from the Orthopedic Foundation of Animals.The three reports you should expect from their genetic testing process include breed identification, genetic marker determination, and disease evaluation. Results can easily be downloaded and printed from your internet-ready device.All good things aside, expect to part with relatively more cash and to encounter long wait times, thanks to their huge database of genetic markers and an extensive testing process.Most users, however, seem comfortable with this, given the fact that the company will issue updates on the progress of your report throughout the entire process.
Wisdom Panel 3.0 Breed Identification Dog DNA Test Kit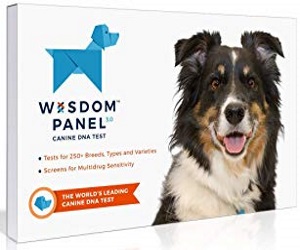 Unlike its forerunners, Wisdom Panel 3.0 prides itself in being more accurate, inclusive, and delivering results that are far easier to understand.
To make their DNA testing process exceptional, the company utilizes a special breed identification technology that comes complete with the capacity to identify well over 250 dog breeds, types, and varieties. That includes not just purebreds, but also mixed ones and designer dogs as well.
However, ascertaining the accuracy of the results where multi-breeds are the subject could be difficult as there's a huge possibility that their ancestors shared the same identity as well.
As for the genetic markers, Wisdom Panel's database only has 1,800.
Even though this is a really small fraction in comparison to Embark's, you are still assured of knowing more and understanding your pet's genetic composition. So, many owners of shelter dogs admit that this information has helped them come up with a better health routine  that fits their dogs' dominant traits.
What's more, the kit includes a disease detection test, which is able to screen your pooch's DNA for more than 150 genetic health conditions. Even if you opt for the DNA kit alone, Wisdom Panel will still test for MDR1 drug sensitivity.
Also, unlike Embark, Wisdom Panel 3.0 kit is less expensive and you are assured of getting results within 2 to 3 weeks.
Would you like to make nutritional choices for your dog? If yes, go ahead and take advantage of the kit's adult weight range prediction.
DNA My Dog Breed Identification Test Kit
DNA My Dog is a less known genetic testing kit, but one that continues to gain more love from dog owners on a budget and those who would rather opt for an inexpensive easy-to-use kit that still does the job.
Compared to the rest of the kits, the company's database is relatively small, with only 84 dog breeds. But what makes it special is that the compilation includes the most common dog breeds, like the German Shepherd, Labrador Retriever, and the American Staffordshire Terrier. The DNA in their test database is from certified purebred dogs as well.
Your report will include information about your dog's dominant breeds, health concerns, and personality traits.
In the event your dog has DNA from a breed not found in the database, the company's geneticists will attribute the percentage of your dog's DNA to the foundation breed or other related breeds.
But where there are no dog breeds related to your pooch, the percentage might just show up as 'unidentified'. The goods news is the company is open to exploring other genetic testing options when such results show up.
Regarding genetic mutation cases, DNA My Dog doesn't do special tests but rather shares information about the general medical issues associated with your breed.
Even though you won't be able to get as much detailed and accurate information as you would with Wisdom Panel or Embark, DNA My Dog Small is still a great place to start for anyone out to find the least expensive dog genetic testing kit.
Final Thoughts
Still not sure whether you should test your dog's DNA?
I would suggest you check out what the majority of pet parents have to say about the procedure. From the joy of finally knowing the identity of their rescue dog, to how the health tests helped save their dog from severe health problems, there's plenty of inspiring stories to hear.
As you've noticed in our dog DNA test reviews, the procedure is nothing complicated. Anyone can do the swab DNA test.
That aside, it's clear that the aforenamed companies have invested in in-depth DNA testing procedures just to ensure you have the most accurate and most comprehensive results.
For those who can afford it, go for either Embark or Wisdom Panel kits, but if you are on a budget, DNA My dog will still give you good value for your money.
In the end, these tests will be help both you and your dog live a happy and healthier life.